A traditional symbol of Christmas has officially arrived in Washington, as a 19-foot Balsam fir was recently delivered to the White House via horse-drawn wagon. This particular Christmas tree is on display in the Blue Room, and it was presented by the Chapman family of Endeavor, Wisconsin. 2017 will mark the 52nd year a member from the National Christmas Tree Association (NCTA) has presented the White House with a Christmas tree.
This season, the White House is featuring 53 individual Christmas trees covered with over 12,000 ornaments and 18,000 feet of Christmas lights. The full Christmas display also includes 71 wreaths and a 350 pound Gingerbread house.
The official White House Christmas tree in the Blue Room at the White House. (Alex Wong/Getty Images)
While the White House will be home to a number of grand Christmas trees for the next month, the average American family may have to search a little harder and pay a little more for their own tree this year.
Per a recent article published by USA Today, it may be more difficult to find a real Christmas tree this year. According to NCTA, the shortage could drive prices of real trees up 5-10 percent on average—and we owe this price jump, in large part, to the Great Recession of 2008.
When the delicate balance of supply and demand—continually stressed by the intricacies of a global economy—is so extraordinarily disrupted (as it was in 2008), the imbalance can create consequences that last for decades. When the economy crashed in 2008, Christmas tree sales crashed with it. Growers didn't harvest as many trees as they normally would as demand slackened—a dynamic that has also affected the larger timber market—which left an excess of aging inventory in the stand and less room to plant new seedlings.
A Christmas tree takes between 8-12 years to reach a desirable height. Due to the major disruption in the harvest/replant cycle ten years ago, growers now don't have the inventory of mature trees to cut and ship to meet seasonal demand. The disruption of 2008 caused a significant market imbalance and when it comes to Christmas tree farms, "That's Oregon, North Carolina, Michigan, Wisconsin, Pennsylvania. These states grow millions of trees and export them across the country," said Doug Hundley, spokesman for the NCTA. "This impact from this recession affected those guys in a big way."
USA Today added that, "Supply isn't the only issue. Diesel fuel prices averaged $2.84 a gallon on Monday, 46 cents more a gallon than a year ago, according to AAA. That means higher shipping costs for truckloads of trees."
Christmas Tree Statistics
Today, the US is home to roughly 15,000 Christmas tree farms but a lion's share of the total tree inventory is grown in Oregon, North Carolina, Michigan, Pennsylvania, Wisconsin and Washington. Last year, 27.4 million Christmas trees were sold, and the most popular varieties were Noble and Fraser firs.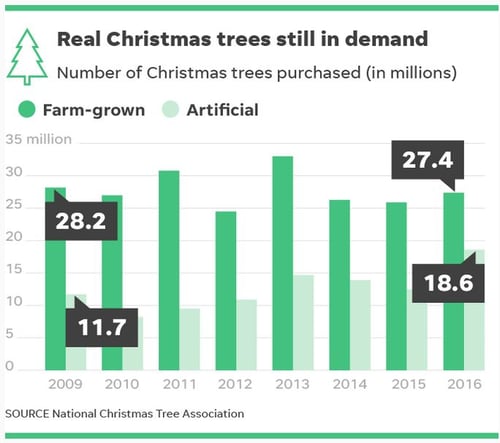 While real Christmas trees remain popular (and environmentally friendly), artificial trees have increased steadily in the past 25 years, from 46 percent of households that decorate Christmas trees to a current 81 percent. Recent statistics include:
More real trees are sold each year than artificial trees; in 2016, 27 million real and 18 million artificial trees were sold.
Of American households that participate in the Christmas tree tradition (roughly 100 million homes), 81 percent of trees are artificial, while 19 percent are real.
Artificial tree owners report keeping trees on average between 6 and 11 years.
In 2016, the mean average cost of a real tree was roughly $70 and an artificial tree was about $100.